Categories >
Guides and Tips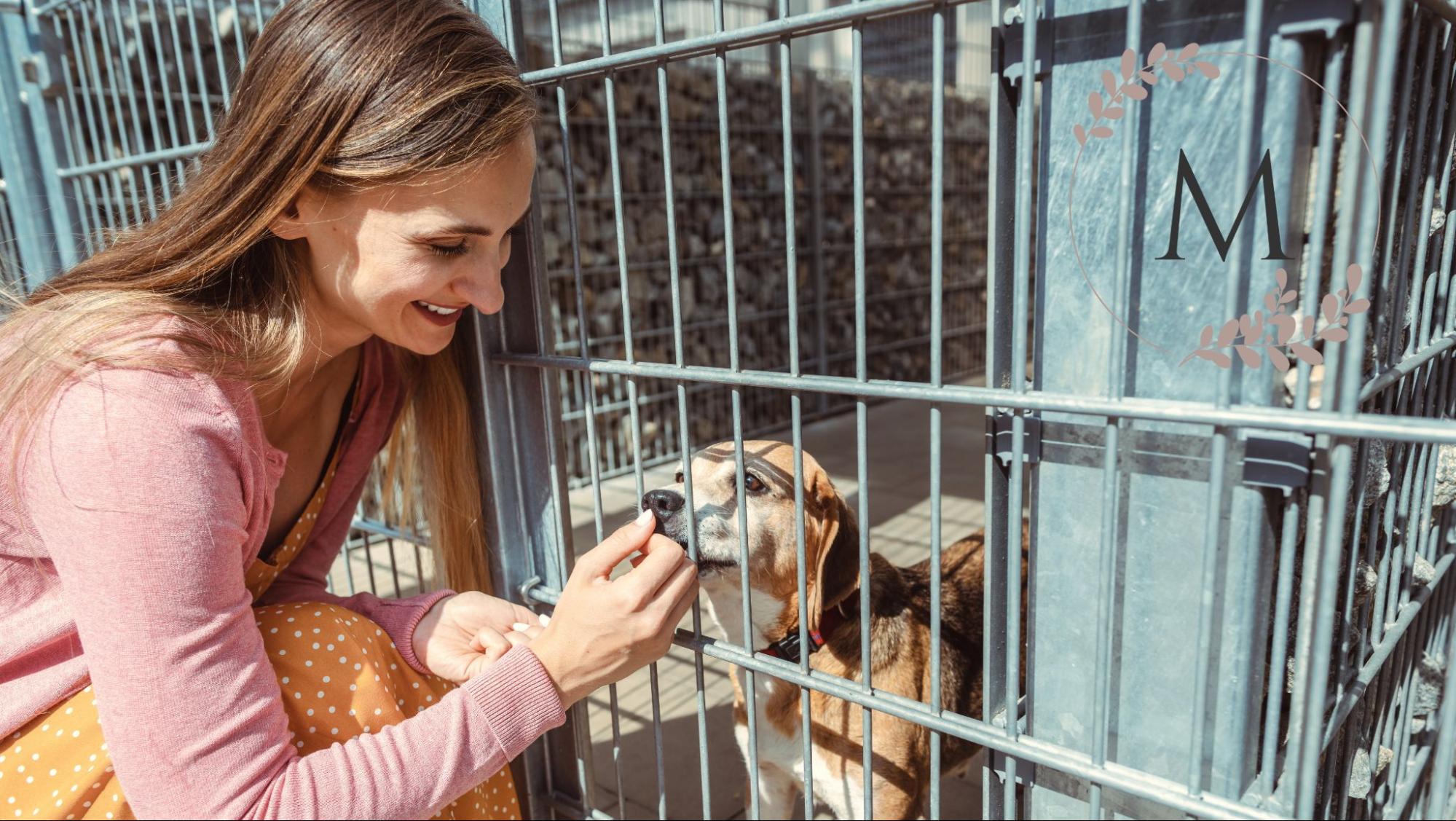 Finding Furry Friends: A Comprehensive Guide to Dog Adoption in Singapore
A few years ago, I lived a dog-less life. While I admired the countless dogs being walked at East Coast Park, I hadn't leaped into dog ownership myself.
Then, one fateful day, while scrolling through social media, I stumbled upon a post from a local dog shelter.
A pair of soulful eyes looked right through the screen and into my heart. It was love at first sight.
Without hesitation, I decided to visit the shelter, and that's when my adventure with my four-legged friend began.
Fast forward to today, and that decision has forever changed my life! That's why I put together this comprehensive guide on dog adoption in Singapore.
I want to share my experience and knowledge with you and anyone else considering opening their heart and home to a furry friend.
Things to Consider before Adopting a Dog in Singapore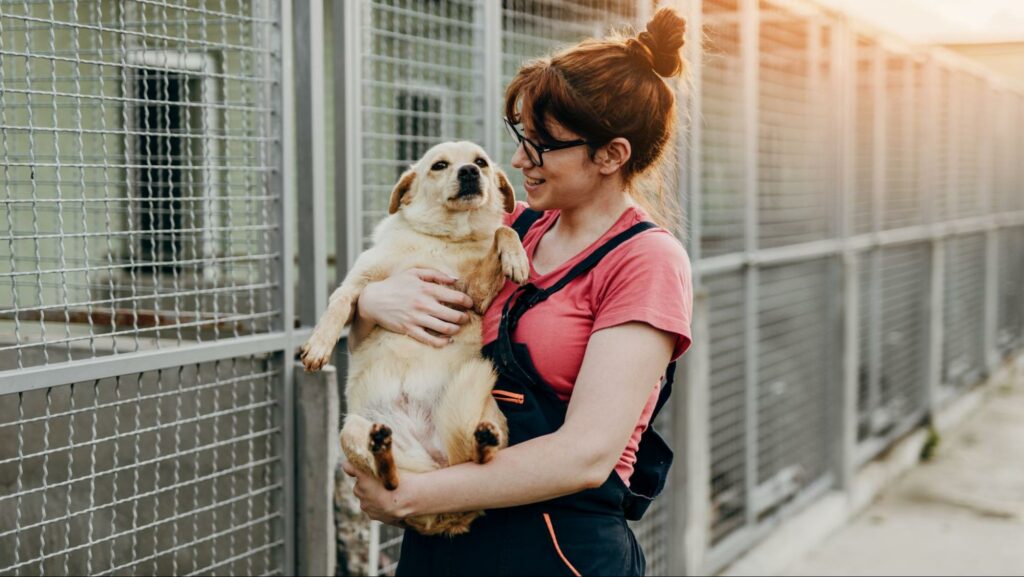 Before adopting a dog in Singapore, factors like living space, financial capability, emotional preparedness, and time commitment to care for your furry companion should be considered.
Taking the time to assess these aspects will ensure a loving and suitable environment for your new pet.
Living Space and Housing Regulations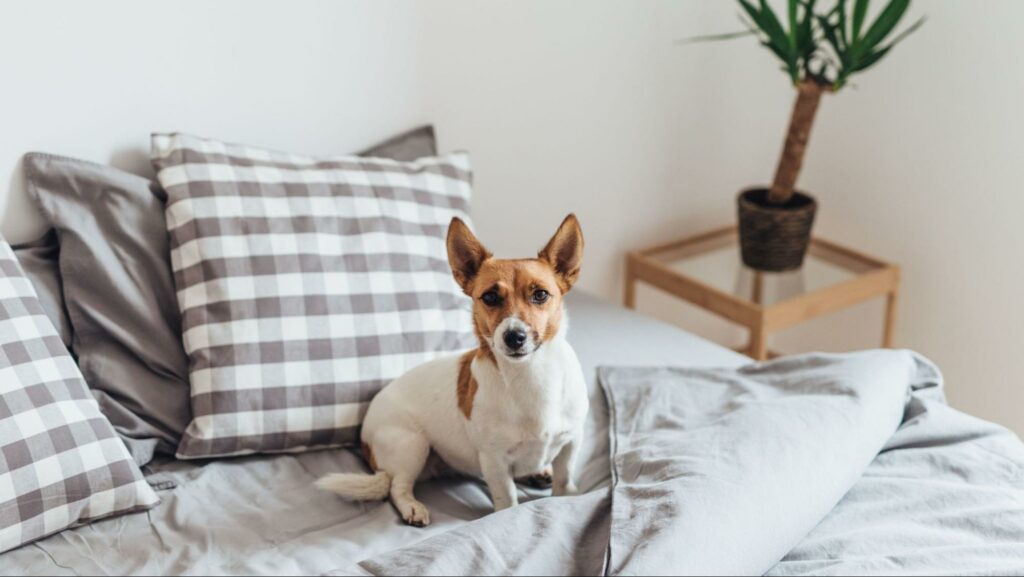 Singapore is known for its compact living spaces, and housing regulations can be strict. Before adopting a dog, you must ensure your living situation is suitable for a canine companion.
Dogs, regardless of their size, need space to play, stretch, and just be themselves.
You should be realistic about whether your current space can accommodate your adopted dog's needs without causing stress or discomfort to you or your future furry friend.
Here are some questions to ponder:
Do you live in a pet-friendly apartment or house?
Is there enough space for a dog to move around comfortably?
Does your housing community or landlord impose any breed or size restrictions?
Are you allowed to have pets, and if so, what are the rules and regulations regarding dog ownership?
Pro Tip:
It's crucial to check with your landlord if she allows pets to avoid any potential conflicts or surprises down the road.
Even if pets are allowed, there may be specific rules and regulations regarding dog ownership that you need to follow.
These could include leash laws, noise restrictions, and waste disposal rules. It's vital to check these with your housing management to understand these policies clearly and avoid future conflicts.
Allergies and Family Health Concerns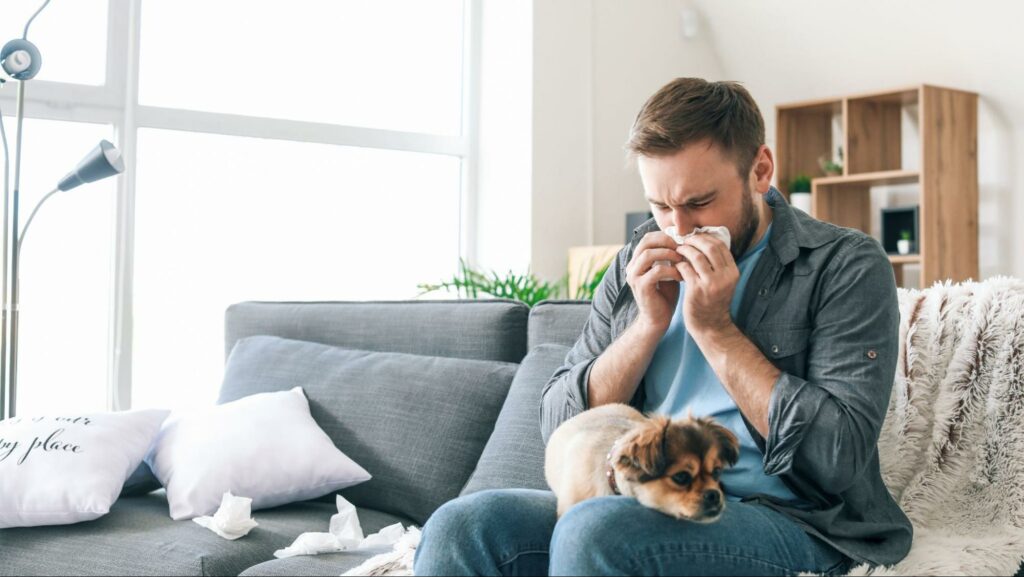 While dogs are undeniably wonderful companions, they can also be the source of allergens that affect some individuals.
Allergies to pet dander, saliva, or urine can lead to sneezing, itchy eyes, runny nose, and skin rashes. These allergic reactions can vary from mild discomfort to more severe respiratory issues.
Before you adopt a dog, you should consult with a doctor or allergist, especially if you or any family member has a history of allergies.
These professionals can conduct allergy tests to identify specific sensitivities, which can help you make an informed decision about bringing a dog into your home.
Pro Tip:
You may ask your local shelter if it has some hypoallergenic dog breeds that produce fewer allergens. These breeds might be a better choice for households with allergy concerns.
But even if there are no known allergies in your household, it's wise to be prepared for the possibility. Regular cleaning, including vacuuming and dusting, can help reduce allergen levels.
Time Commitment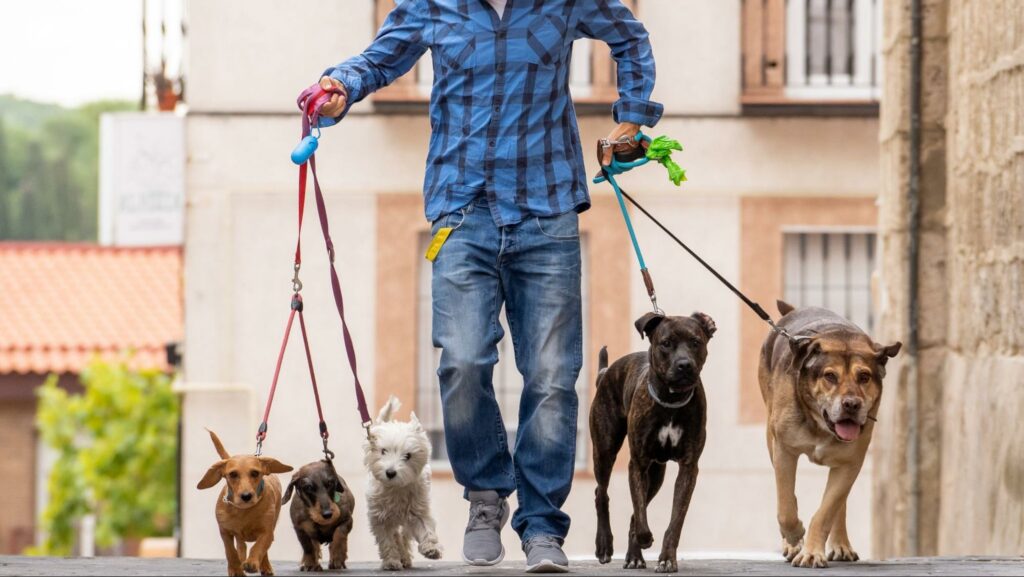 Dogs need mental stimulation as well. This can come through interactive toys, puzzles, and training sessions.
Mental engagement for dogs is essential for preventing boredom and behavioral problems, especially if you're living in a smaller living space.
If you have a busy work schedule or frequently travel, you need to have a plan for your dog's care and companionship in your absence.
Before adopting, assess your daily routine, work hours, and lifestyle to ensure that you can provide the exercise, mental stimulation, and companionship that a dog needs to thrive and be happy.
If you cannot meet these requirements, consider other options or wait until your circumstances align better with the needs of a canine companion.
Emotional Preparedness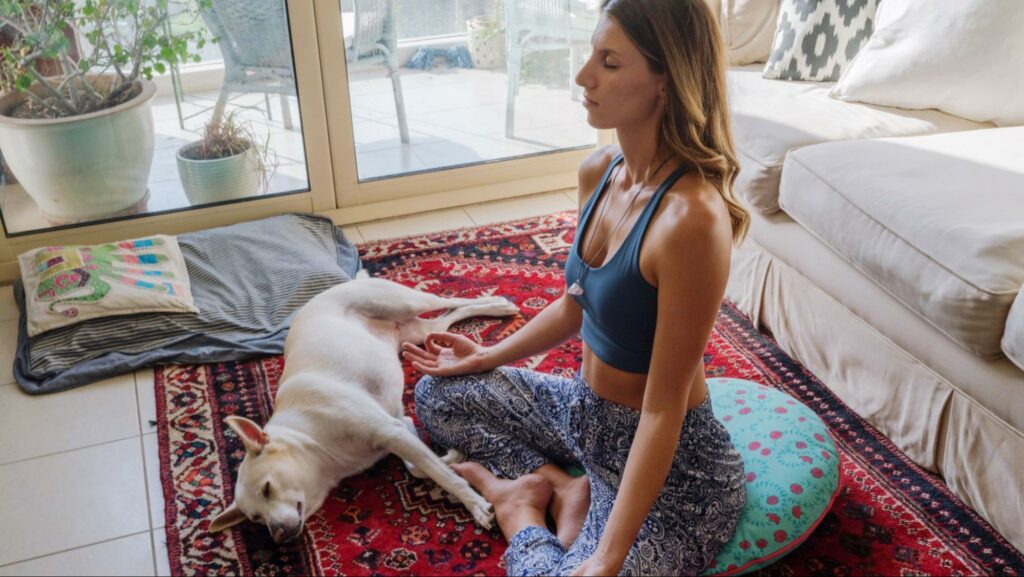 Emotional preparedness is a crucial aspect of dog adoption that is often underestimated.
Bringing a dog into your life can be incredibly rewarding, as this furry friend offers unwavering companionship, loyalty, and affection.
However, it's essential to recognize that there will also be challenges and moments that require patience, understanding, and empathy.
Like humans, dogs have unique personalities, quirks, and needs, and building a strong bond with them takes time and effort.
When you adopt a dog, you're committing to being there for them through thick and thin, just as they will be there for you.
This means being prepared for potential behavior issues, separation anxiety, or health concerns that may arise.
Educating yourself about dog training and behavior is essential to provide your furry friend with the guidance they need to thrive in your home.
Financial Capability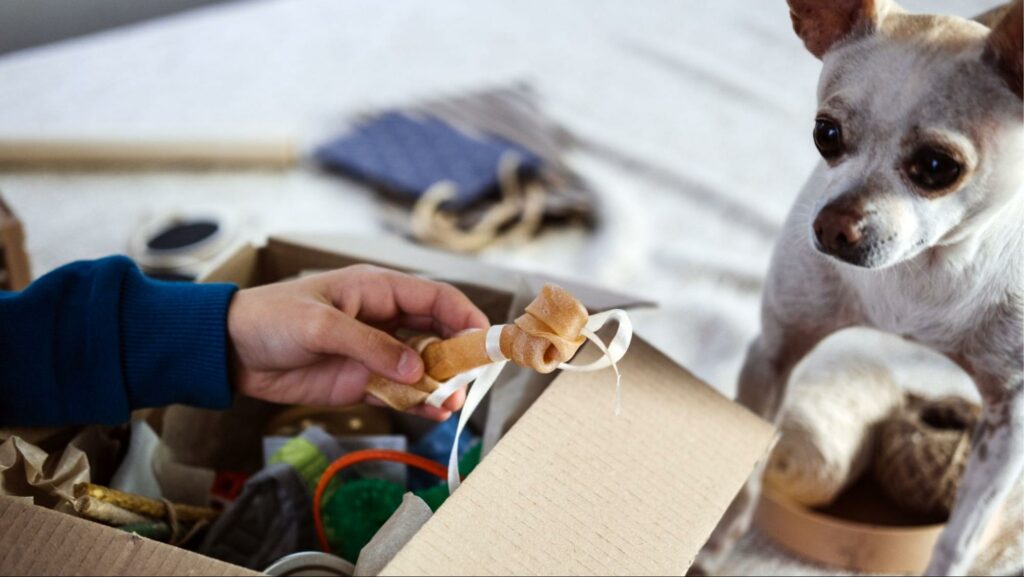 Owning a dog comes with financial responsibilities. Beyond the initial adoption fee, you must budget for food, grooming, veterinary care, and other expenses.
You should consider the following:
Can you afford the ongoing costs of dog ownership, including food, grooming, and preventive healthcare?
Are you prepared for unexpected medical expenses that may arise during your dog's stay with you?
Do you have a plan for pet insurance or a rainy-day fund for your dog's needs?
Being financially prepared ensures you can give your dog the care and attention they deserve without compromising your financial stability.
Availability of Veterinary Care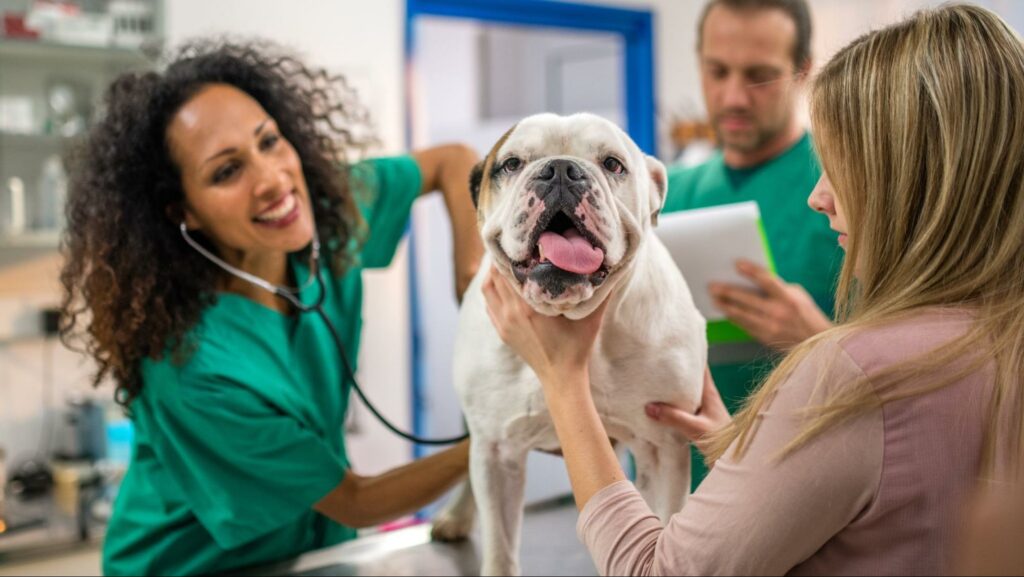 When it comes to your dog's health, it's crucial to be proactive. Regular veterinary check-ups, vaccinations, and preventive care can help identify and address potential health issues before they become major concerns.
Your veterinarian will guide you on a vaccination schedule tailored to your dog's needs and the local disease prevalence.
Singapore's veterinary facilities are equipped to handle emergencies and provide specialized treatments if necessary.
Having a trusted veterinarian on hand can bring peace of mind, especially during those unexpected health crises that can arise.
How much does dog adoption cost in Singapore?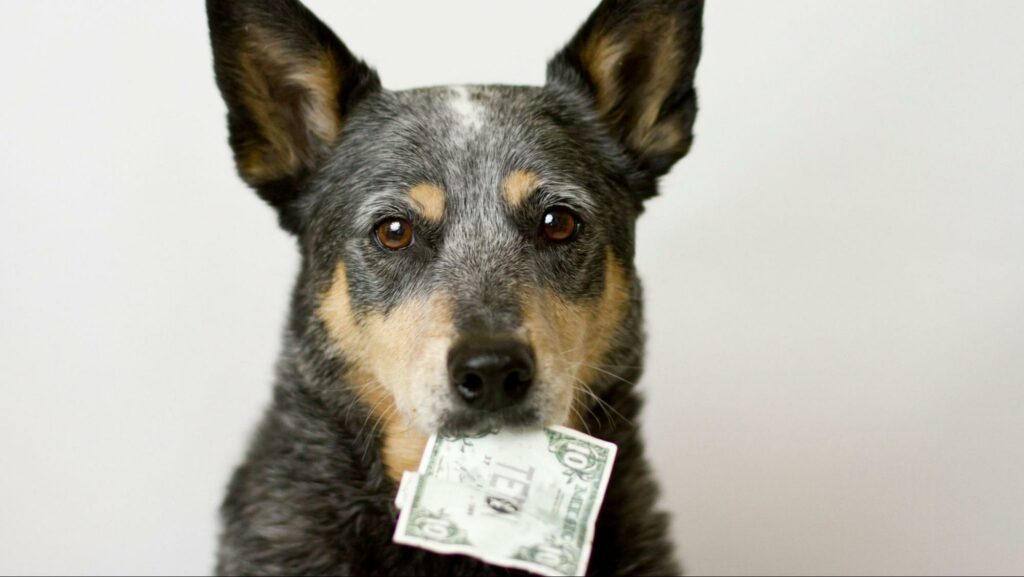 The average cost of dog adoption in Singapore typically ranges from S$70 to S$250.
This specific cost depends on the shelter or rescue organization you choose to adopt from and the dog's age, breed, and medical history.
Dogs require ongoing expenses for food, grooming, veterinary care, and other necessities. The adoption fee is an initial investment demonstrating a commitment to providing for the dog's well-being.
Additionally, the fee helps discourage impulsive adoptions. When people invest financially in the adoption process, they are more likely to think carefully and make informed decisions about bringing a dog into their home.
This reduces the likelihood of dogs being adopted on a whim and then returned to the shelter when the novelty wears off.
Best Dog Adoption Centers in Singapore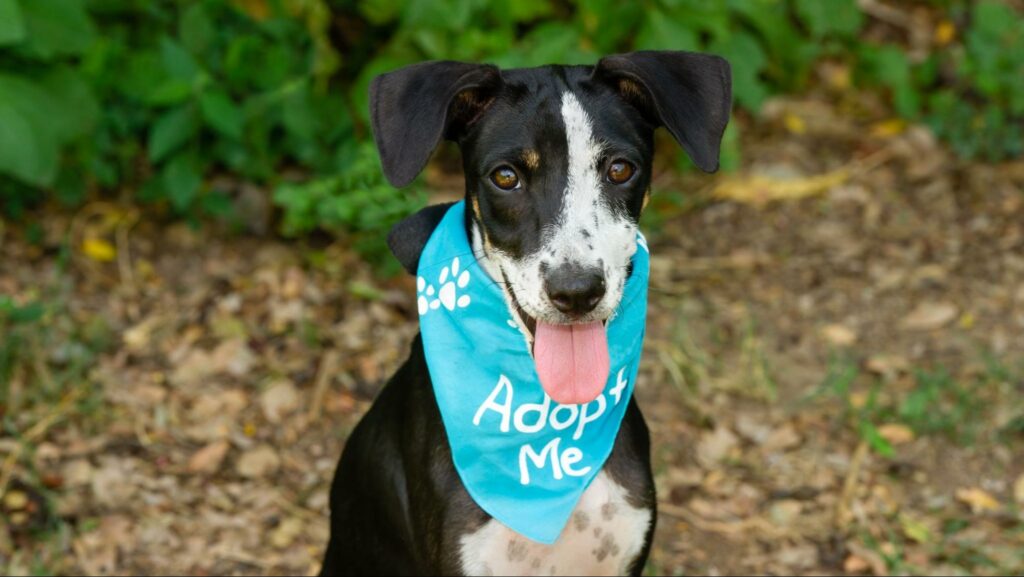 When it comes to dog adoption in Singapore, there are several exceptional shelters and organizations dedicated to finding loving homes for dogs in need.
Here's a closer look at some of the best ones you may consider when you're ready to adopt a furry friend:
Madam Wong's Shelter and Friends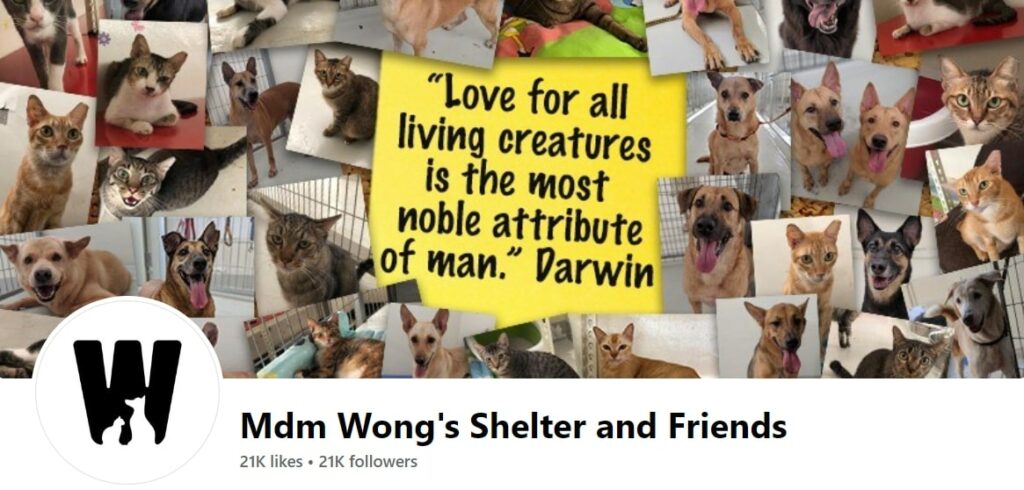 Madam Wong's Shelter and Friends is a small but incredibly dedicated animal rescue organization.
Madam Wong, a compassionate lady with a heart of gold, founded this shelter as a haven for abandoned and abused dogs.
It takes great care to rehabilitate and rehome these dogs, ensuring they find loving forever families.
One remarkable thing about this shelter is the personal touch they bring to each adoption.
The owner herself is actively involved in the process of matching dogs with potential adopters based on compatibility and lifestyle.
OSCAS Singapore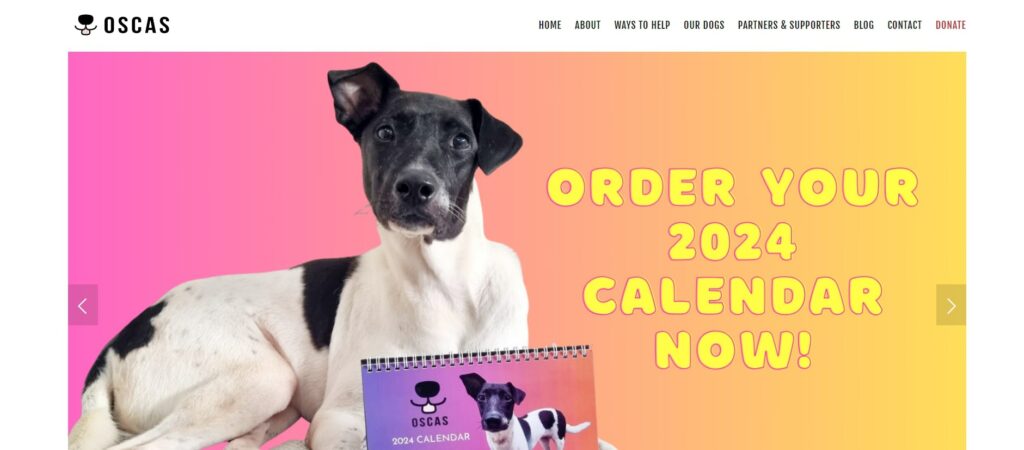 Oasis Second Chance Animal Shelter (OSCAS) is another outstanding dog adoption center in Singapore.
Established by a group of dedicated volunteers, OSCAS is committed to rescuing and rehoming stray and abandoned dogs. It provides a safe environment for these dogs to heal physically and emotionally.
What sets this animal shelter apart is its strong emphasis on education and community involvement. It conducts various educational programs and events to raise awareness about responsible pet ownership.
Website
https://www.oscas.sg/
Address
59 Sungei Tengah Rd, Block R, #01 33 The Animal Lodge, Singapore 699014
Contact Details
enquiry@oscas.sg
Operating Hours
Monday to Sunday
11:00 am – 5:00 pm
Adoption Fee
S$350
Mercylight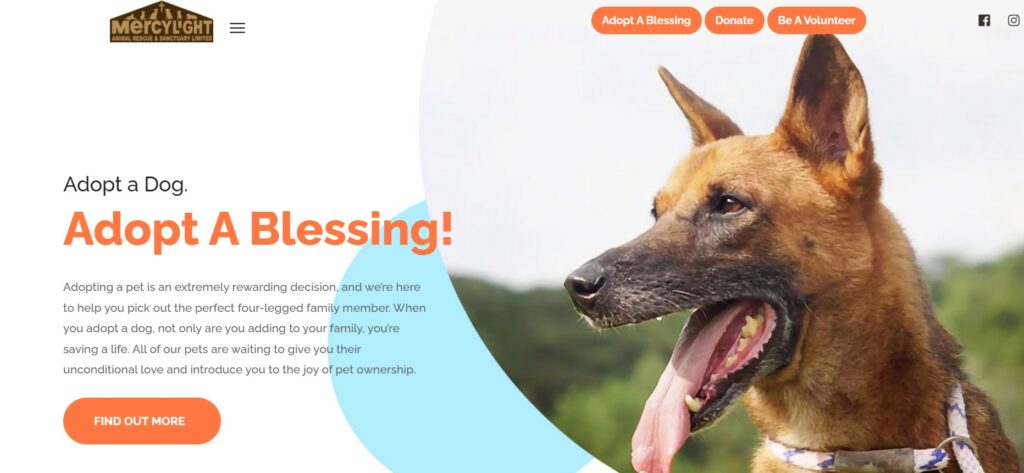 Mercylight is a shining beacon of hope for Singapore's homeless dogs.
This shelter believes in second chances and works tirelessly to give abandoned and abused dogs a fresh start. It has a beautiful facility where dogs are cared for until they find their forever homes.
One unique feature of Mercylight is its "Adopters' Buddy" program.
This initiative pairs new dog owners with experienced volunteers who offer guidance and support in the early adoption days. It's like having a mentor for you and your new furry friend.
Mettacats & Dogs Sanctuary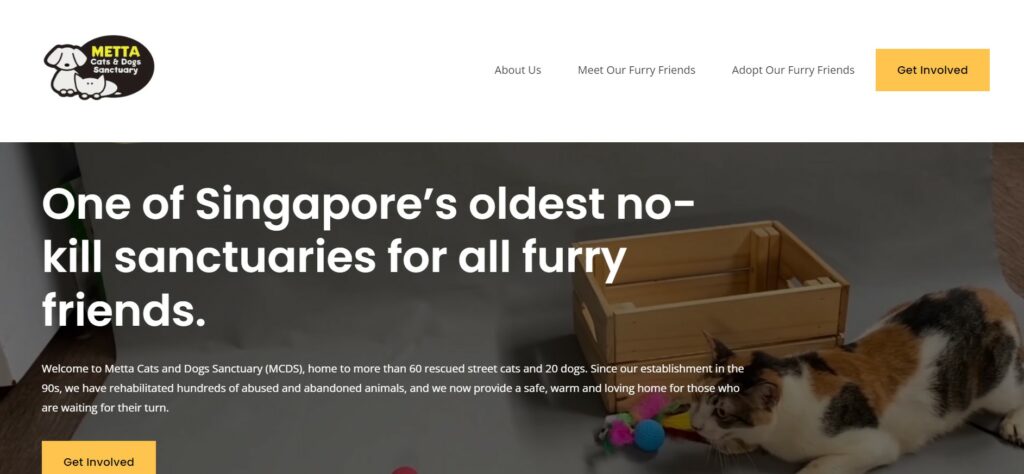 3. Photo of the shelter's staff caring for the pet or just posing for the camera inside or in front of the shelter
Mettacats & Dogs Sanctuary, founded by a compassionate woman named Siew Ying, is a sanctuary for cats and dogs in Singapore.
Siew Ying and her team have a strong online presence, making it easy for potential adopters to browse available dogs and connect with the shelter.
What's impressive about Mettacats & Dogs Sanctuary is its commitment to the well-being of animals. It provides medical care, spaying/neutering, and rehabilitation for its animals, ensuring they are healthy and ready for adoption.
Website
https://www.mettacatsdogs.com/
Address
59 Sungei Tengah Rd, Block U, Singapore 699014
Contact Details
mettacatsg@gmail.com
Operating Hours
All visits are strictly by appointment
Visitors are allowed on:

Saturday
2:00 pm – 5:00 pm
Sunday
3:00 pm – 6:00 pm
Adoption Fee
S$350
Animal Lovers League Singapore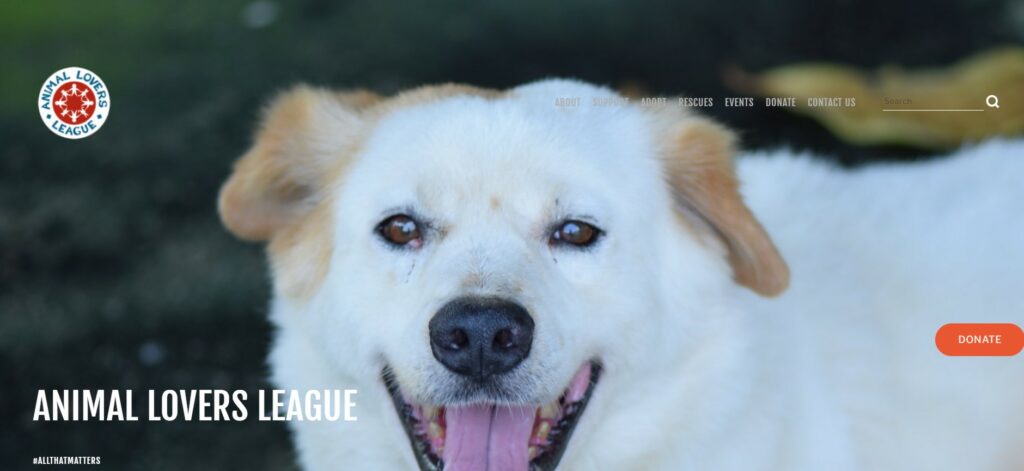 Animal Lovers League Singapore is one of the oldest animal shelters in Singapore, with a rich history of rescuing and rehoming animals.
It provides a safe haven for dogs, cats, and other animals in need. This shelter's dedicated volunteers tirelessly care for and find forever homes for these furry babies.
One thing that stands out about the Animal Lovers League is its advocacy for mixed-breed dogs.
It believes every dog deserves a loving home, regardless of their pedigree. So, if you're open to adopting a unique mixed-breed pup, this might be the perfect place for you.
Website
https://www.animalloversleague.com/
Address
59 Sungei Tengah Rd, Block Q 01-29, Singapore 699014
Contact Details
+65 6755 1424
Operating Hours
Monday to Sunday
9:00 am – 6:00 pm
Adoption Fee
S$250
Society for the Prevention of Cruelty to Animals (SPCA)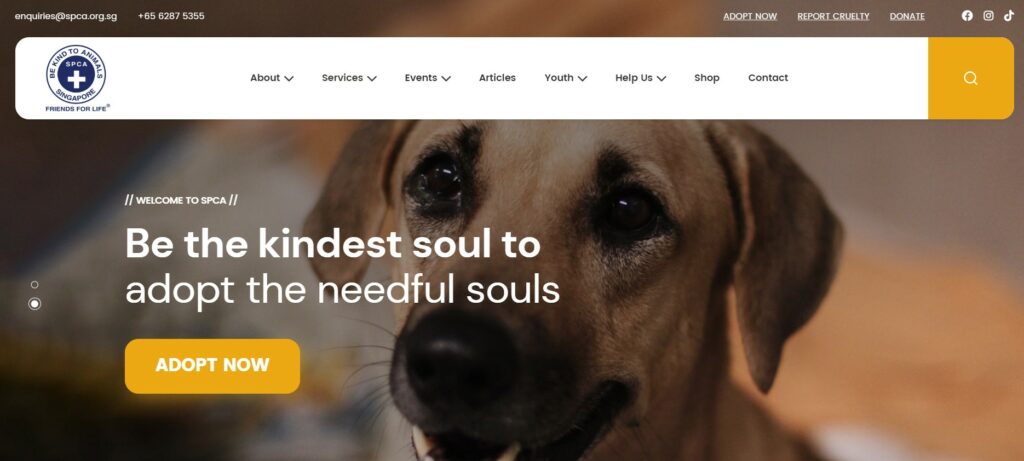 The Society for the Prevention of Cruelty to Animals, commonly known as SPCA, holds a prominent place in the hearts of animal lovers in Singapore.
For many years, it has been tirelessly dedicated to the cause of animal welfare, advocating for the rights of animals and stepping in to rescue those in distress.
SPCA's commitment to dog adoption is evident in its comprehensive adoption program. Its facility is designed to provide a comfortable and nurturing environment for dogs that are awaiting their forever homes.
When you adopt from SPCA, you're not just welcoming a new furry family member into your home; you're also actively supporting their vital work in animal welfare.
Address
50 Sungei Tengah Road, Singapore, Singapore
Contact Details
(02) 8293 9698
Operating Hours
Monday to Friday
8:00 am – 12:00 pm; 1:00 pm – 4:00 pm
Saturday
7:00 am – 12:00 pm; 1:00 pm – 3:00 pm
Adoption Fee
S$300
Purely Adoptions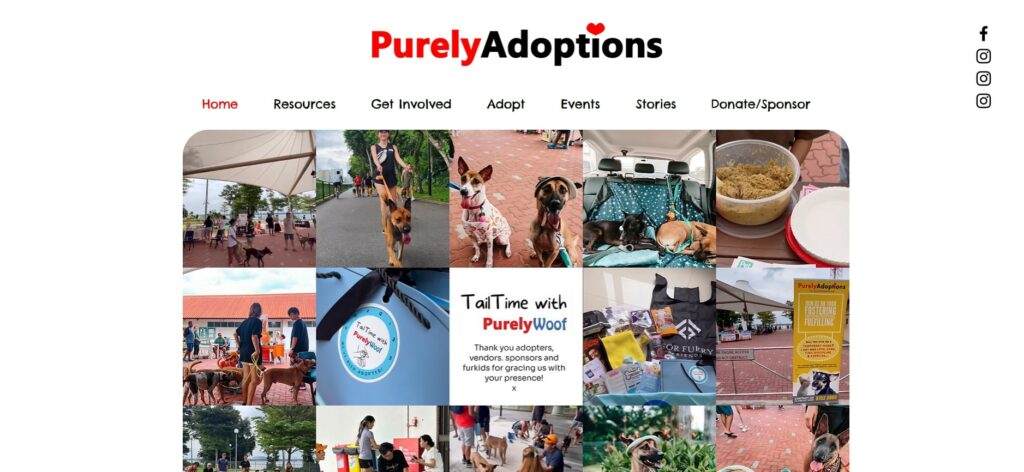 Purely Adoptions is a shining example of volunteers' power to unite for a noble cause.
This entirely volunteer-run organization is driven by an unshakeable passion for finding loving homes for rescued dogs in Singapore.
Purely Adoptions firmly believes that the act of adoption can potentially transform the lives of both dogs and humans, and this belief drives their every action.
One remarkable aspect of this shelter's approach is its commitment to making perfect matches. It understands that every dog has a unique temperament, and every potential adopter has specific preferences and lifestyle considerations.
As a result, the shelter's staff go the extra mile to ensure that the dog's personality aligns harmoniously with the adopter's situation.
This thoughtful and personalized approach increases the likelihood of a successful and fulfilling partnership between the new owner and their adopted furry friend.
Its dedication to thorough screening and matchmaking minimizes the chances of misalignment and the subsequent return of adopted dogs to shelters.
| | |
| --- | --- |
| Website | https://www.purelyadoptions.com/ |
| Address | Leisure Park Kallang, Singapore |
| Contact Details | +65 9001 8848 |
| Operating Hours | Strictly by appointment |
| Adoption Fee | S$350 |
Chained Dog Awareness SG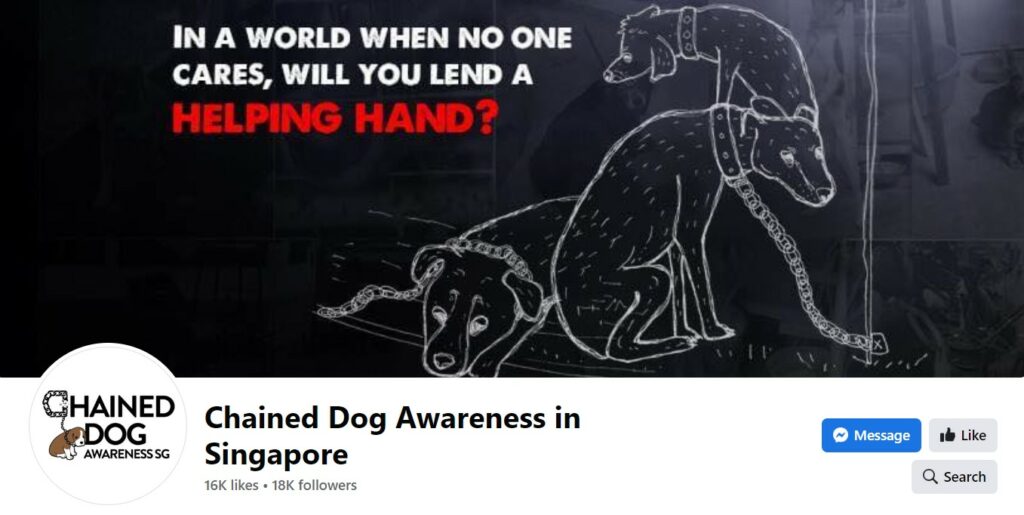 Chained Dog Awareness SG is a remarkable community-driven organization that stands as a beacon of hope for the welfare of chained and neglected dogs in Singapore.
Its primary focus lies in rescuing and advocating for dogs facing dire situations, particularly those enduring the harsh reality of being chained or neglected.
Choosing to adopt from Chained Dog Awareness SG means embracing a dog that has faced adversity and offering them a future filled with love and compassion.
This organization might be the perfect choice if you want to significantly impact a dog's life and give them the love they've been missing.
Exclusively Mongrels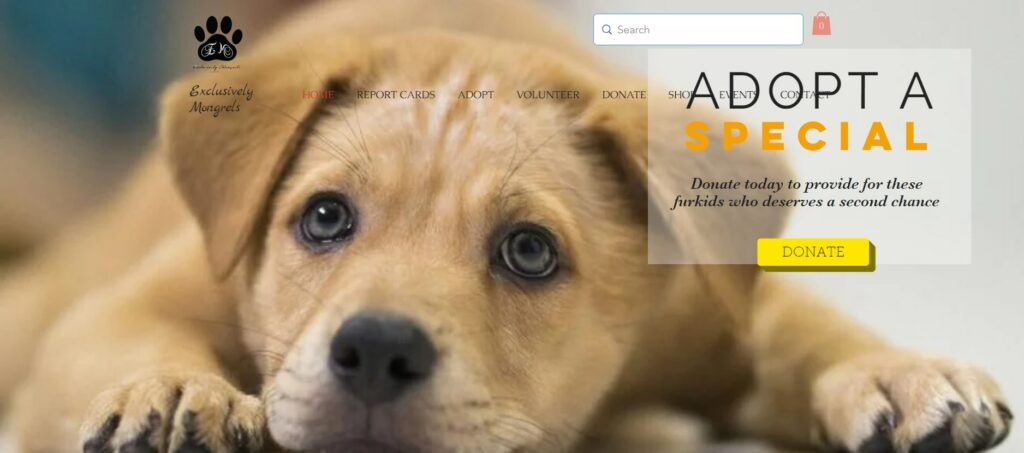 Exclusively Mongrels is an organization that celebrates the beauty and uniqueness of Singapore's very own "special dogs," the Mongrels. This dog breed is the beloved mixed-breed dog found throughout the country.
Exclusively Mongrels has made it its mission to change the perception of these incredible dogs and promote their adoption as a rewarding choice for potential pet owners.
One remarkable feature that sets this animal rescue and shelter apart is their dedication to creating opportunities for you to connect with these special dogs.
It regularly hosts adoption drives and events where you can meet and interact with the dogs. This provides an exceptional chance to get to know these furry companions and discover if one of them might be the perfect addition to your family.
Website
exclusivelymongrels.org
Operating Hours
Strictly by appointment
Click the application form on its website if you're interested in adopting
Adoption Fee
S$400
Save Our Street Dogs (SOSD)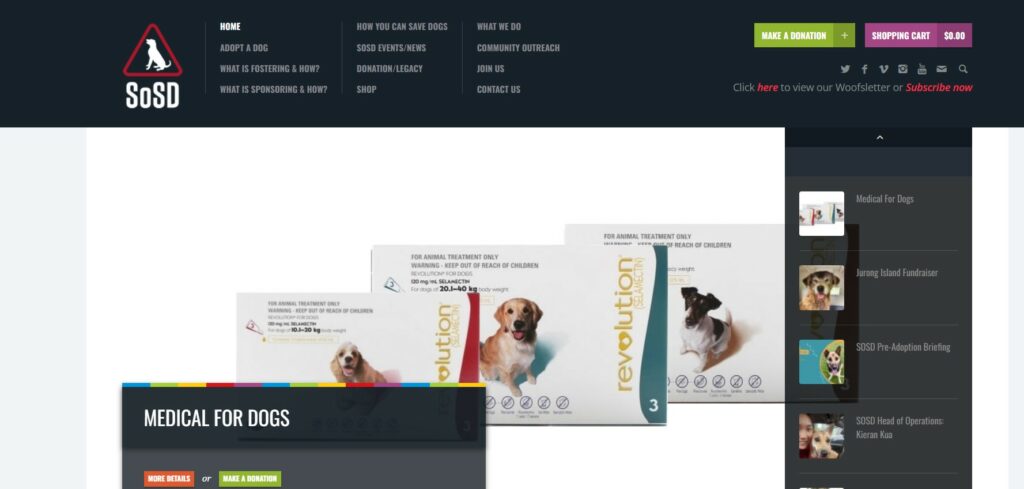 Save Our Street Dogs (SOSD) is a well-established and highly respected organization in Singapore that has made it their mission to rescue and rehome street dogs.
These dogs, often overlooked or neglected, find a lifeline in the dedicated efforts of SOSD.
The organization is deeply committed to improving the lives of resilient street dogs and finding them the loving forever homes they deserve.
One of SOSD's most impactful initiatives is its "Adopt, Don't Shop" campaigns. These campaigns aim to raise awareness about adopting local street dogs rather than purchasing dogs from breeders or pet stores.
Website
https://sosd.org.sg/
Address
59 Sungei Tengah Road, Block TUnit 01-42 Singapore 699014
Operating Hours
Strictly by appointment
Click here and fill out the form if you're interested in adopting
Adoption Fee
S$300
What to Do during Pet Adoption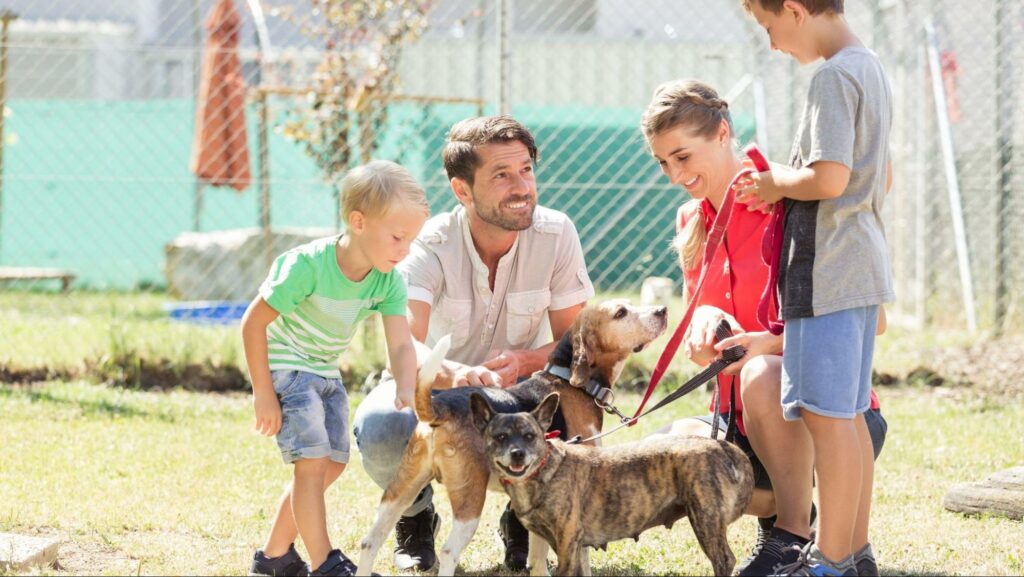 Adopting a dog is a big decision and a significant responsibility. It's essential to approach the process carefully to ensure you and your new four-legged friend have the best experience possible.
Here's a breakdown of what you should do during the pet adoption process:
Ask questions about the dog's history.
Before you commit to adopting a dog, gathering as much information as possible about their history is crucial.
You may ask the shelter or rescue organization about:
Age and Breed – Knowing a dog's age and breed will help you understand their energy level, potential health issues, and the size they'll grow to.
Health Records – You should request your chosen dog's health records, including vaccination history, spaying or neutering details, and any existing medical conditions.
Behavioral Information – You should inquire about your chosen dog's behavior and temperament. Is he good with children, other pets, or strangers?
Any history of aggression or anxiety?
Reason for Surrender – You may ask the shelter's caregiver why the dog was surrendered or abandoned. This information can provide insights into your chosen furry friend's past and potential challenges.
Habits and Preferences – Does the dog have any specific habits or preferences? Knowing their likes and dislikes can help you provide a comfortable home.
Remember that adopting a dog is a long-term commitment, so gathering all the information you need to make an informed decision is essential.
Discuss adoption fees and policies.
Adoption fees vary among different shelters and rescue organizations. Knowing the exact cost upfront allows you to budget accordingly.
Remember that these fees often cover initial veterinary expenses such as vaccinations, spaying/neutering, and sometimes even microchipping.
While the cost may seem significant, it's generally more affordable than purchasing a dog from a breeder and handling these expenses independently.
Understanding the adoption policies is equally essential to prepare for the application process. Some organizations may require interviews, reference checks, or even home visits to ensure the dog is placed in a suitable environment.
Review the adoption contract.
Reviewing the adoption contract is a critical step in the dog adoption process.
This document serves as a formal agreement between you and the shelter or rescue organization, outlining the specific terms and conditions of the adoption.
It's important to approach this step carefully, as the contract will govern your responsibilities as a pet owner and what you can expect from the shelter or rescue.
Pro Tip:
You must ensure that the adoption contract clearly states that you are the dog's legal owner after the adoption. This is essential for establishing your rights and responsibilities regarding the pet.
Bring a pet carrier or leash.
Bringing a pet carrier or leash when you head to the shelter or rescue organization on adoption day is a simple yet crucial step in ensuring a positive experience for your new furry family member.
The choice between a pet carrier or a leash largely depends on the size and age of the dog you're adopting.
---
Dog adoption in Singapore is a rewarding experience that not only brings joy to your life but also makes a positive impact on the community.
By adopting a dog, you become a responsible pet owner and contribute to reducing stray animals.
However, it's essential to consider various factors before adopting to ensure you can provide a loving and stable home for your new furry friend.
You should take your time, research, and ensure you're emotionally prepared for the incredible journey of dog ownership.
---