Categories >
Guides and Tips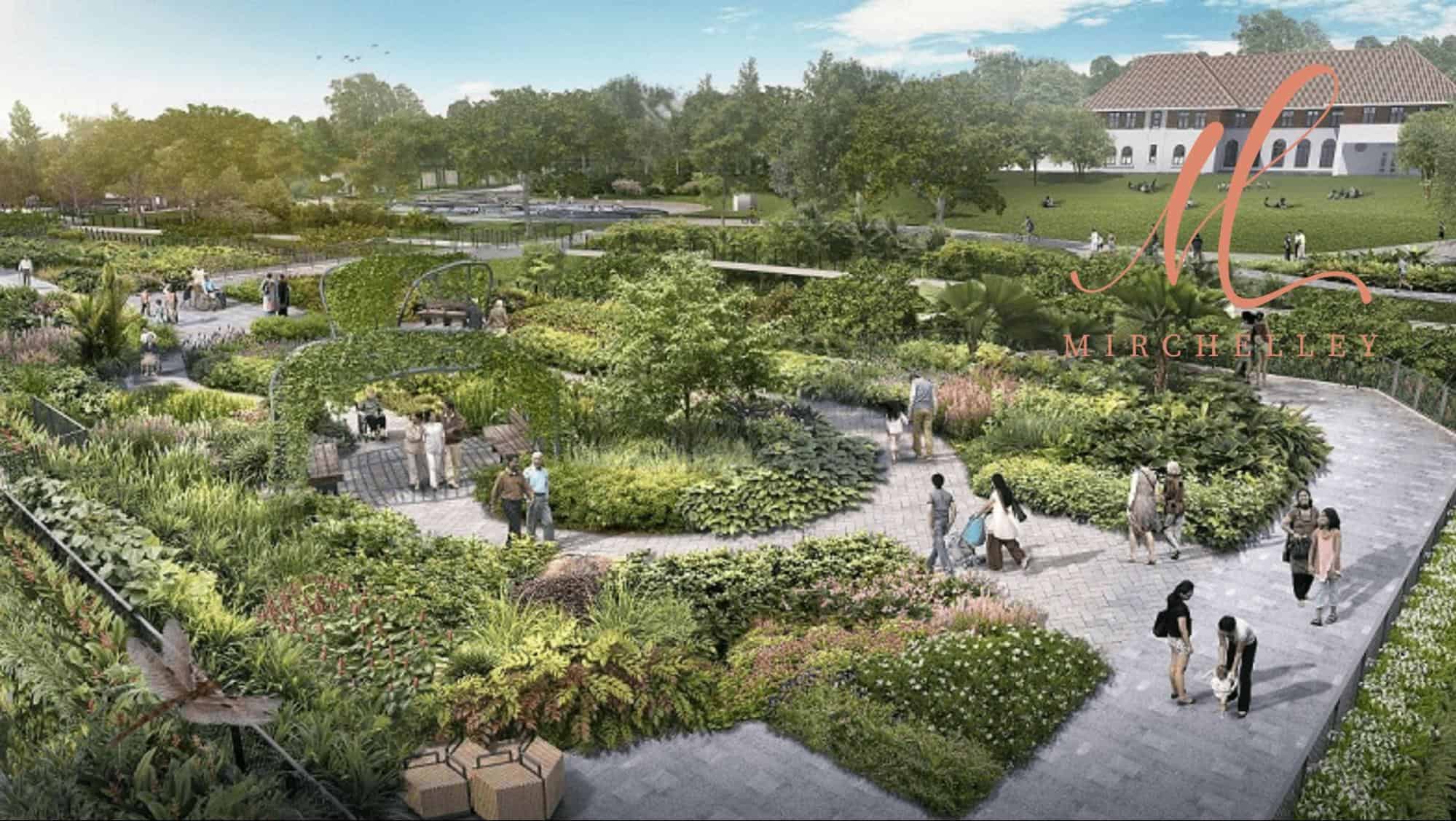 Fun Things to Do in Sembawang, Singapore for Kids
If you're looking for a memorable family vacation, you may consider Sembawang, Singapore. I've had wonderful days exploring this charming coastal town with my two energetic kids, and the experience has truly been magical!
Sembawang isn't just another spot on the map of the city-state; it's a hidden gem brimming with activities that will keep your little ones grinning from ear to ear.
Here are the fun-filled things you can do with your children in this enjoyable bonding place:
Play at the Battleship Playground.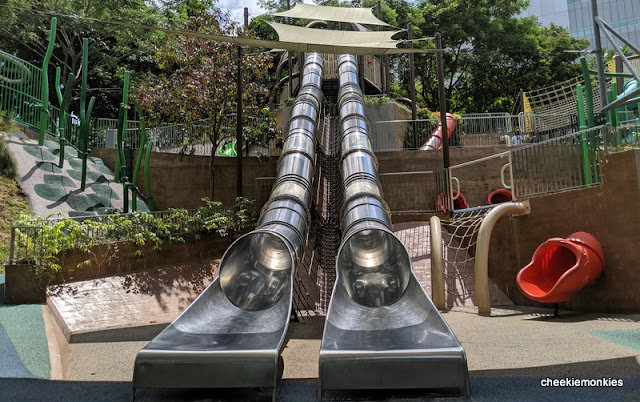 When you go to Sembawang, Singapore with your little ones, your first place to visit should be the Battleship Playground. It is designed to look like a mighty battleship, complete with masts, cannons, and decks perfect for climbing.
Your kids can become the brave captains of their own ship, navigating through imaginary stormy seas or even fending off ferocious sea monsters.
One of the most thrilling features is the lookout tower, where your children can take the helm and steer their ship to safety. They'll feel like genuine explorers searching for hidden treasures or distant lands.
With slides that resemble thrilling escapes and nets to conquer, the Battleship Playground offers endless opportunities for imaginative play.
As a parent, you can join in on the fun, too. You may help your little sailors hoist the sails and watch for adventures on the horizon.
It's a fantastic spot for outdoor fun, where you can bond with your kids while they explore the seven seas (or at least their playground version) and create unforgettable memories.
Have a picnic at Sembawang Park.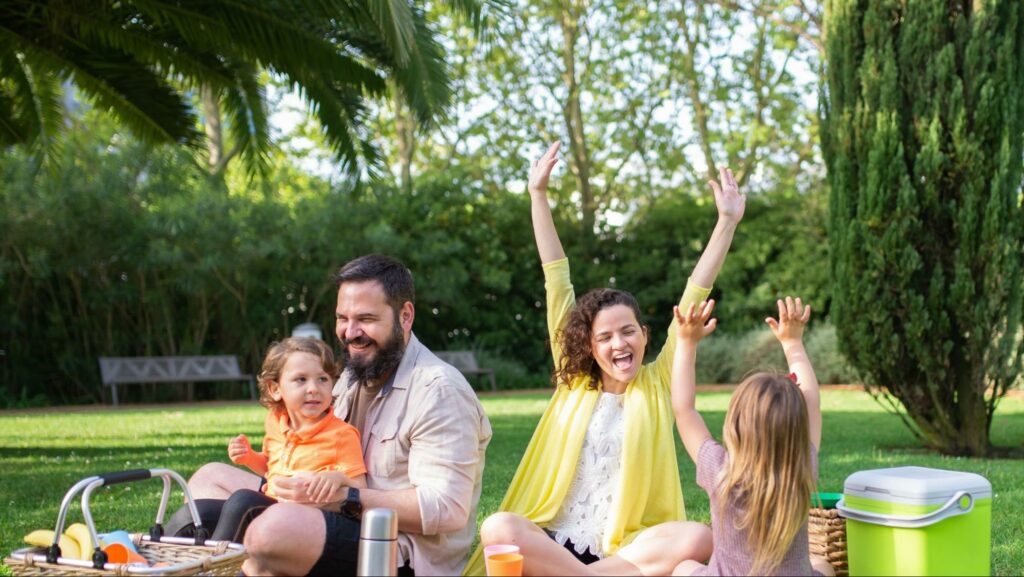 Sembawang Park is the ultimate family-friendly picnic spot. There's a vast expanse of lush greenery, panoramic seafront views, and a serene ambiance that feels like you've been transported to a different world.
When you arrive, it's a good idea to pack a well-stocked picnic basket filled with your children's favorite snacks, sandwiches, refreshing beverages, and, of course, some crunchy carrot sticks for the resident squirrels.
While you savor your picnic, your little ones can explore the open spaces where they might spot a colorful butterfly or two. It's a prime spot for kite flying so you can bring one for some high-flying fun.
Experience Sembawang Hot Spring Park.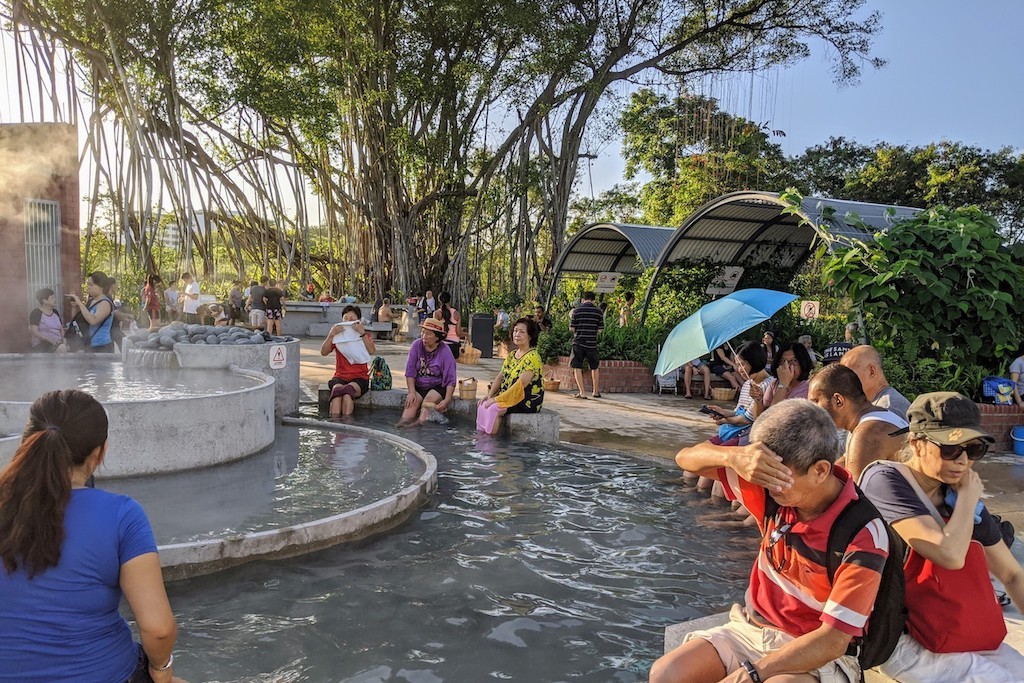 Sembawang Hot Spring Park is where you can experience the Earth's warmth bubbling up from beneath your feet. It's a truly one-of-a-kind attraction, and your family will be mesmerized by the warm waters and the peaceful surroundings.
The hot spring water here is famous for its healing properties and natural warmth. It's said to be rich in minerals that can be good for your skin and overall well-being. Locals and visitors often come here to fill up their containers with this natural elixir.
The park's centerpiece is the cascading pool, where the hot spring water flows. The pool is thoughtfully designed with different sections, allowing visitors to soak their feet in the hot water.
It's an incredible sensation, especially on a cooler day.
Explore Sungei Sembawang Waterfront.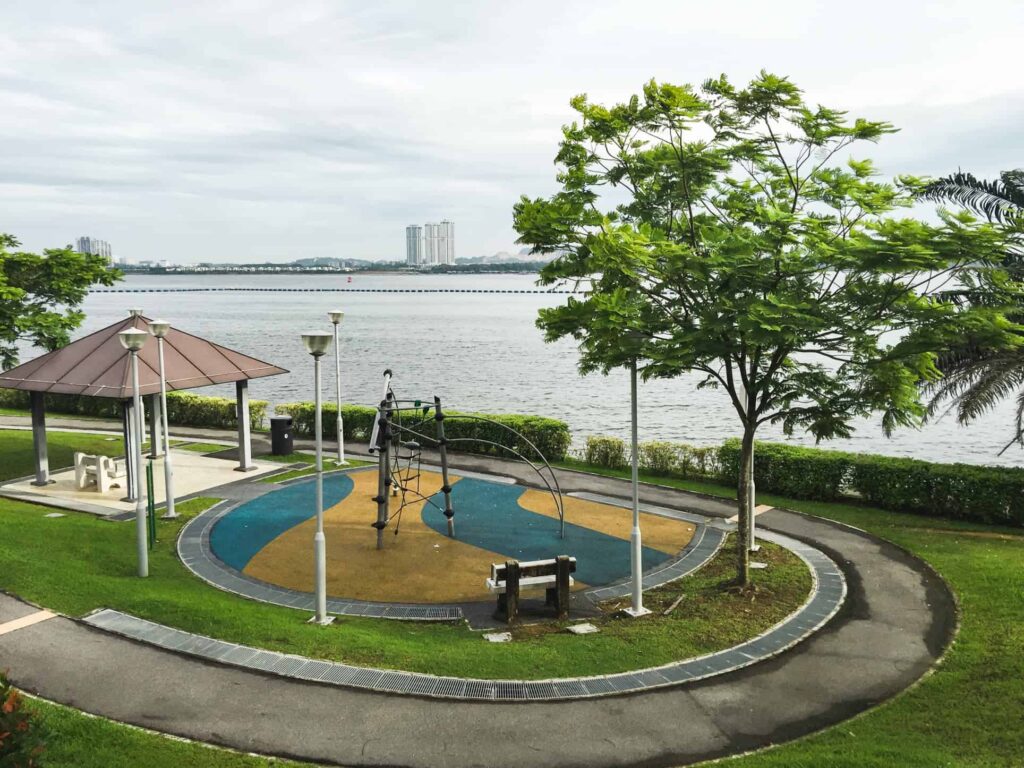 Sungei Sembawang Waterfront is truly a hidden gem that's just waiting to be discovered by families seeking a serene escape in Singapore.
As you arrive at Sungei Sembawang, you'll be greeted by a soothing blend of lush greenery and pristine waterways. It's an ideal spot for a leisurely exploration of the boardwalk with your kids.
What truly sets Sungei Sembawang Waterfront apart is the abundant wildlife that calls this area home.
You and your kids should keep your eyes peeled for bird species like herons, egrets, and kingfishers, which can often be seen gracefully perched along the water's edge or soaring overhead.
You can even try some light fishing, making it a great opportunity to teach your children about the marine ecosystem and the importance of conserving these fragile habitats.
Learn at the Singapore Discovery Centre.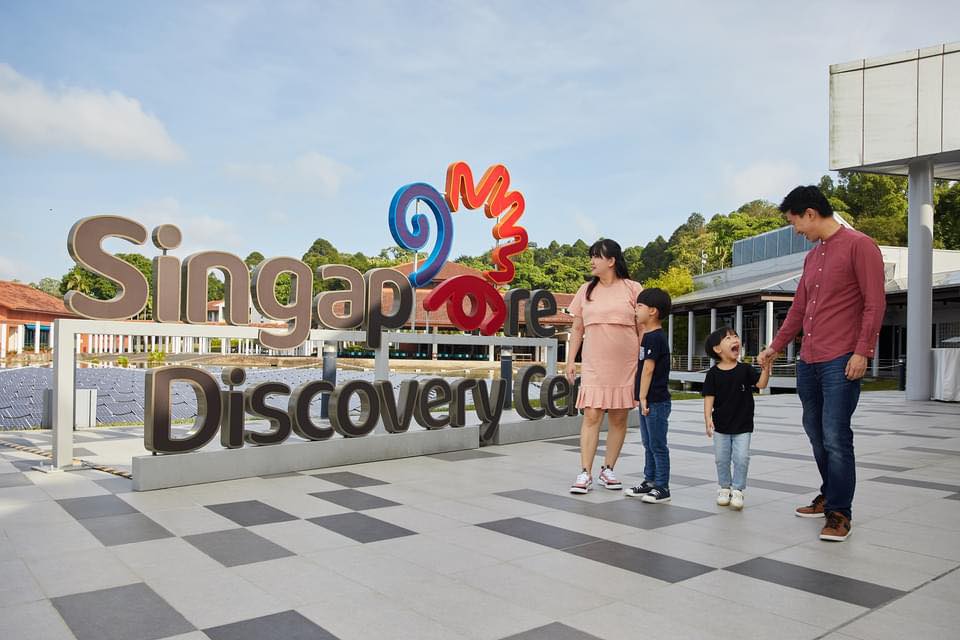 Venturing into the Singapore Discovery Centre is like stepping into an exhilarating world of knowledge and wonder.
Here, the young minds in your family can embark on a journey through time, space, and technology.
From fascinating science and technology exhibits that unravel the mysteries of the universe to captivating historical displays that bring Singapore's past to life, the learning opportunities are endless.
But the best part? It's not just about gazing at glass cases and reading plaques.
Your kids can roll up their sleeves and dive into the action with hands-on exhibits that make learning a thrilling adventure.
Enjoy and swim at Sembawang Beach.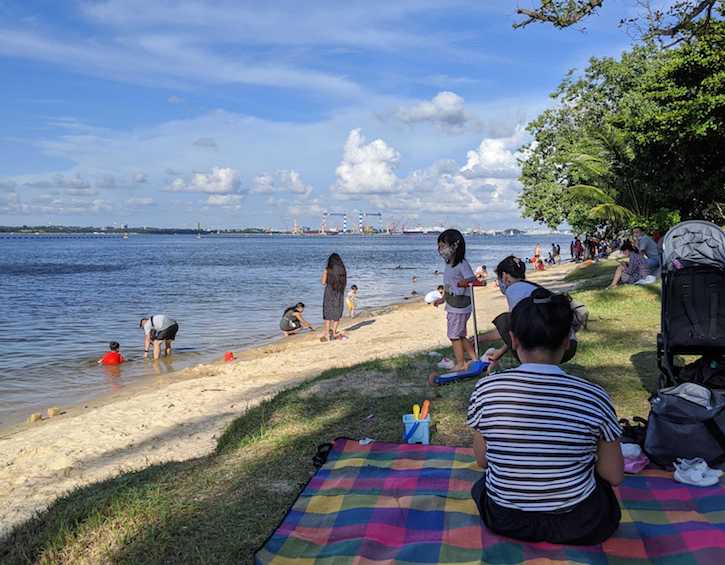 To maximize your bonding moments with your kids, I suggest you head to Sembawang Beach.
As a frequent visitor with my family, I can vouch for its sheer beauty. It's where you leave your worries at the shoreline and dive headfirst into family fun.
The waters here are calm and shallow, making it an excellent spot for even the youngest swimmers to safely frolic.
Explore the coastal Kampong Mosque.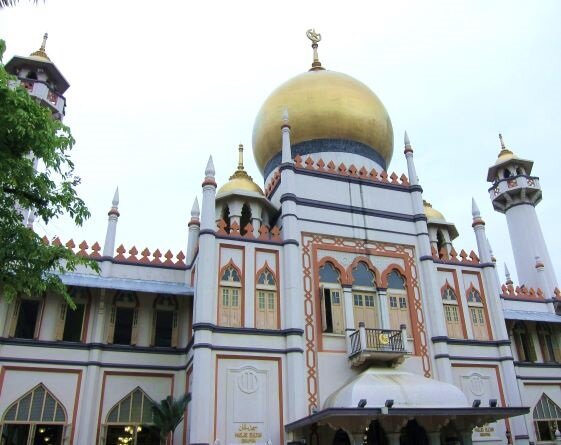 As you meander through the scenic wonderland of Sembawang, you shouldn't forget to stop by the Coastal Kampong Mosque. This historical treasure adds a rich tapestry to the town's vibrant history.
While the doors to the mosque itself may not always be open for public tours, that doesn't mean you can't explore the area around it and soak in the architectural beauty that defines this cultural landmark.
The mosque's intricate design and serene surroundings make it an excellent spot for family photos and a moment of quiet reflection.
But it's not just about admiring the architecture; visiting the Kampong Mosque is an opportunity to teach your kids about cultural diversity and the importance of religious tolerance.
You can explain to them the significance of religious places in the community and their role in promoting harmony and unity among different groups.
Visit the black and white bungalows built for British naval officers.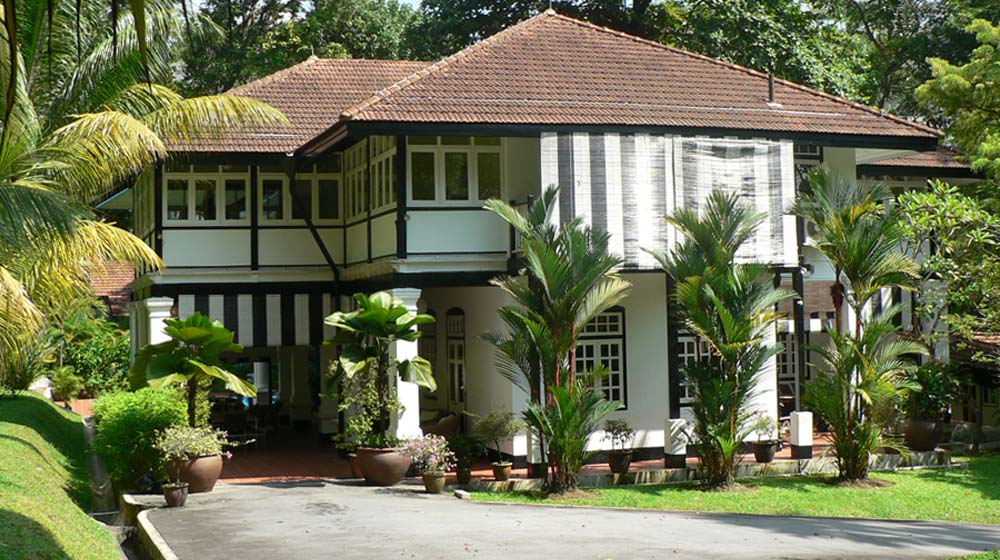 Wandering through the black and white bungalows in Sembawang is like returning to the colonial era.
These beautifully preserved houses were originally constructed to accommodate British naval officers and their families, and they're a striking example of architectural fusion.
As you explore these charming homes with your kids, it's a chance to share Singapore's rich history with them.
You can explain how these bungalows played a significant role in Singapore's past and how they symbolize the nation's multicultural heritage.
Visit and explore Canberra House (Old Admiralty House).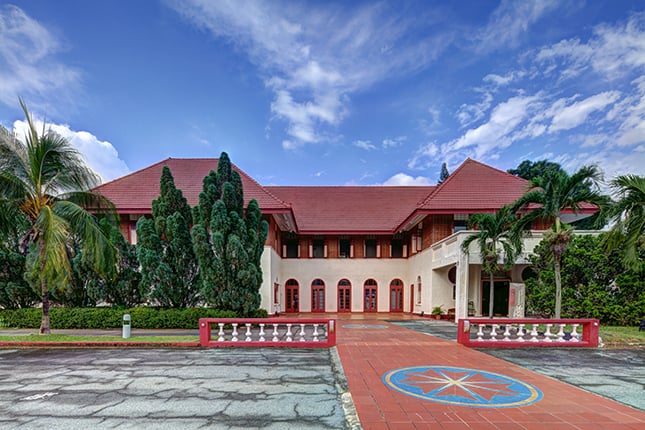 Canberra House is a captivating time capsule. This meticulously restored colonial building once stood as the elegant residence for esteemed senior officers and dignitaries, bearing witness to the historical tapestry of the town.
The architecture combines colonial grandeur and tropical allure, creating a photogenic backdrop for memorable family snapshots.
Today, it has undergone a delightful transformation, housing a charming dining establishment.
As you step inside, you'll find a world of culinary delights awaiting your palate. Whether you're in the mood for a sumptuous feast or a quick bite, Canberra House offers an assortment of cuisines to satisfy every taste bud.
Where to Eat Around Sembawang, Singapore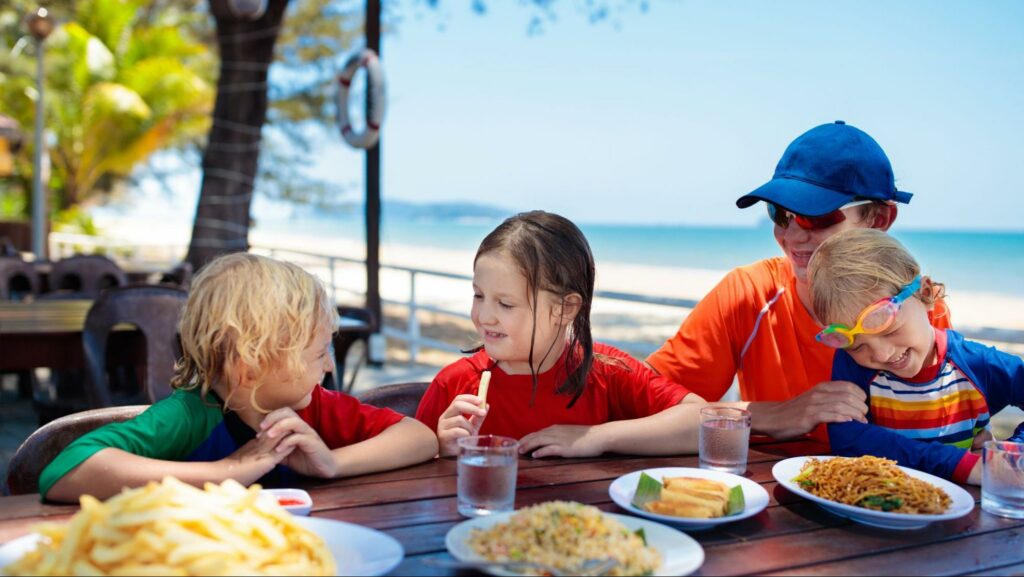 After a day of exploring, you and your kids probably want to restore your energy by eating. Fortunately, there are plenty of dining options in the area to satisfy your cravings.
Here are some of the best kid-friendly places to eat in and around Sembawang, Singapore:
Woody Family Cafe
Woody Family Cafe is a cozy café bathed in the warm glow of sunlight, with the irresistible aroma of fresh coffee and mouthwatering dishes wafting through the air.
This café shines brightest when it comes to its kid-friendly menu. You'll find colorful and creative pancakes that look as good as they taste and adorable bento sets that are a hit with the kiddos.
The interior of Woody Family Cafe exudes a warm and inviting atmosphere. The wood-themed decor creates a sense of coziness, making it the perfect setting for a family day out.
Saizeriya
Saizeriya is a budget-friendly Italian haven in the heart of Sembawang! This charming restaurant, nestled in the Sun Plaza, is a go-to spot for those who crave hearty Italian fare without breaking the bank.
Whether you're a discerning foodie or just seeking a delightful family meal, Saizeriya has something special in store for you.
Now, let's talk about its signature dish. While it offers a wide variety of Italian classics, one dish you must try is its "Seafood Doria."
It's a glorious combination of creamy, cheesy, and savory goodness, with plump shrimp and tender squid atop a bed of fragrant rice.
This diner also offers a kids' menu that's pocket-friendly and filled with dishes that kids adore. It serves classics like spaghetti with a flavorful tomato sauce, crispy and cheesy pizza slices, and golden chicken nuggets that practically beg to be dunked in ketchup.
These kid-friendly options make dining at Saizeriya a win-win for the entire family.
Abang Recipes
If you're on a mission to explore the authentic flavors of Singaporean cuisine, Abang Recipes is the place to be.
One of its must-try signature dishes is the renowned Hainanese chicken rice. This dish is a culinary masterpiece, featuring tender, poached chicken served with fragrant rice.
Additionally, the meal is accompanied by an array of delectable condiments like ginger paste, chili sauce, and dark soy sauce.
The kiddos can savor dishes like chicken rice, a familiar and comforting option that will make them smile.
If your tiny tots prefer something crispy, the chicken nuggets are a delightful choice. They're bite-sized, crunchy, and perfect for little fingers.
You Huak Restaurant (Miss Tam Chiak)
You Huak Restaurant is a hidden gem in Sembawang that will delight seafood lovers of all ages. This dining spot is a local favorite, known for its fresh and mouthwatering seafood offerings.
The stars here are the chili crab and black pepper crab — perfectly cooked with an irresistible blend of spices and sauces that will have your taste buds dancing with delight.
If you're not afraid to get your hands a little messy, you're in for a memorable treat.
If your little ones are not into seafood dishes, You Huak Restaurant has a special menu that caters to the kids, ensuring they have a delightful dining experience, too.
Among the options, you'll find a delectable plate of fried rice full of flavor and easy for little hands to manage. The sweet and sour chicken is another winner, featuring tender pieces of chicken coated in a tangy and slightly sweet sauce that kids adore.
8 degrees
8 Degrees is a charming café in the heart of Sembawang that's bound to please every family member.
Whether you're a fan of Western delights or crave some local Singaporean flavors, this café has something for everyone.
One of the best meals that stands out in this diner is its Hainanese Chicken Chop. Imagine the tender and flavorful goodness of Hainanese chicken but with a twist.
Its amazing cooks here take that succulent chicken and transform it into a crispy, golden-brown chop, served with a generous drizzle of savory brown sauce.
It's a delightful fusion of textures and flavors to make your taste buds dance joyfully. The dish also has fragrant rice and crisp vegetables, producing a satisfying meal.
If your child enjoys fish and chips, you're in for a treat. The crispy, golden fish fillet is paired with a side of fries, and trust me, it's a hit with kids and adults alike.
---
Sembawang is the perfect destination for a family outing that offers a little bit of everything, creating a memorable experience for all.
This coastal town combines natural beauty, rich history, and diverse dining options that cater to all tastes and ages.
Its harmonious blend of these elements makes it an ideal setting for a family day out, ensuring a fun experience you'd want to repeat countless times!
---