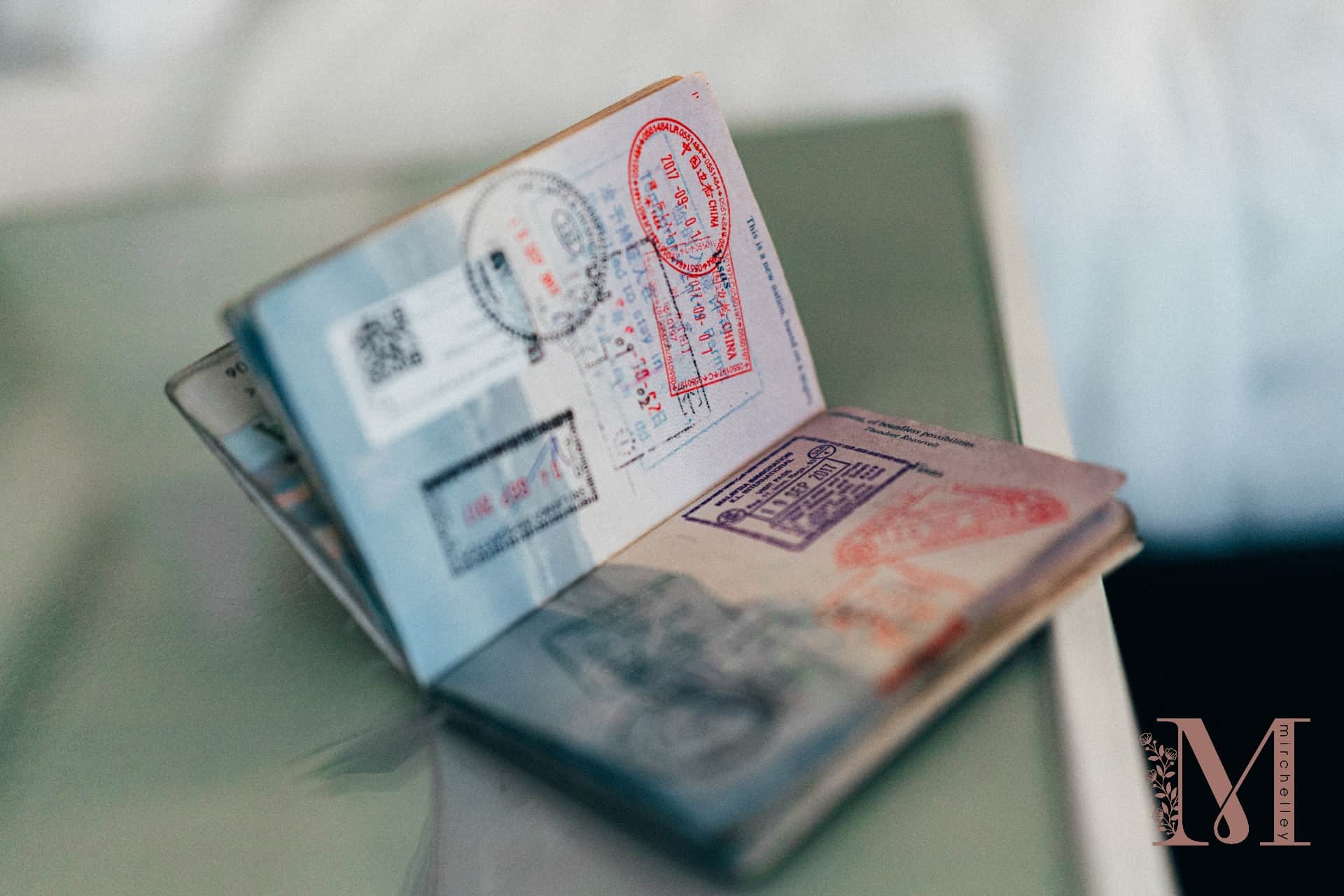 The 5 Best Immigration Lawyers in Singapore
How we picked
Services
We rounded up immigration firms that provide staple and complete services for the top countries clients usually want to relocate to, so you can find the one-stop immigration firm that can help you.
Experience & Professionalism
Longstanding history contributes to a firm's trust rate, as well as its design and approach in its field. We gathered immigration firms that we think have the most fruitful methods in handling applications.
Success Rate
Below you'll find immigration firms that have granted different visas to tens and thousands of their clients throughout their career.
Client Satisfaction
Processing visas is a tedious process, so we asked clients for immigration firms, lawyers, and consultants that provided them with utmost positivity and support throughout the process.
1. Austral Migration Consultancy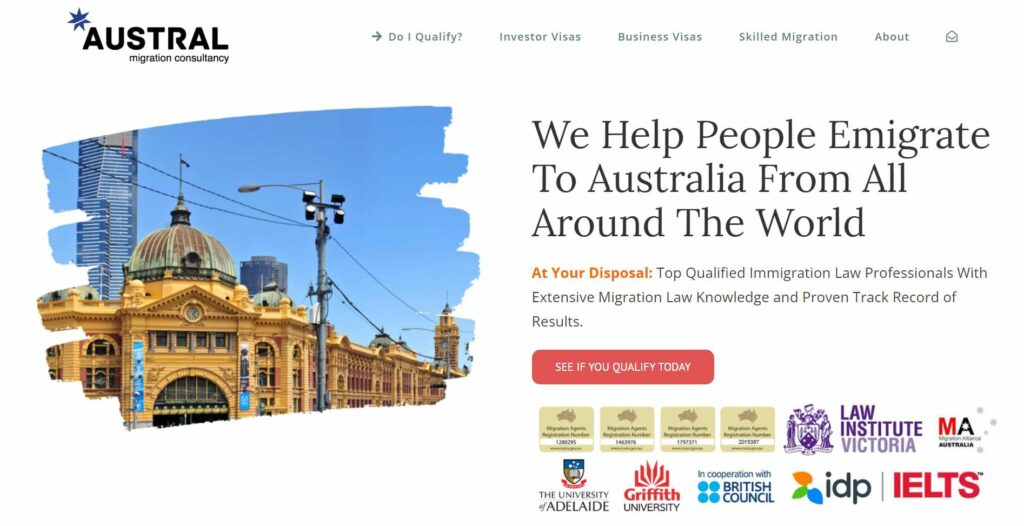 Services: Migration to Australia, Investor Visas, Business Visas, Skilled Migration
Website: https://australmigrate.com/
Address: High Street Centre, #19-01, 1 North Bridge Road, Singapore, 179094.
Contact Details: +65 6904 0026
Office Hours: Tuesday to Saturday, 9:00 AM – 6:00 PM
| | |
| --- | --- |
| Google Reviews | 4.7/5 |
| Asia Firms Reviews | 4.9/5 |
| Total Reviews | 3.5/5 |
| Score Consistency | 4.4/5 |
| | |
| --- | --- |
| Services | 4/5 |
| Experience & Professionalism | 4/5 |
| Success Rate | 5/5 |
| Client Satisfaction | 4.8/5 |
Online portal available for virtual collection of documents
Qualified Australian lawyers and migration officers on board
Free consultation via website
Flexible payment options
Headquarters not Singapore-based
Widely recognised as a premier immigration law firm, we point to Austral Migration Consultancy as a first choice for anyone looking to migrate to Australia.
Having granted more than 200,000 visas over the past 12 years, you can trust Austral Migration Consultancy to handle every case with care and provide you with all the support you need.
In fact, it's geared with highly qualified staff to back its clients throughout the strenuous process of acquiring a visa.
No matter what type of visa you need, its Australian immigration lawyers and migration agents are ready to be your support team.
It also makes the entire process easier for you by allowing the virtual collection of documents via its online portal.
We highlight this function as one of its key features, as it allows its firm to accommodate clients anywhere in the world.
If you travel a lot or have most of your time taken up by your day job, you won't have to go out of your way to drop by its office to keep the process going — the next step is always just one click away!
As a matter of fact, its website provides a free consultation for interested parties.
All you have to do is fill in a short form and Austral Migration Consultancy will assess whether you're qualified for the visa you want to apply for.
It even allows flexible payment options for its services. It offers payment plans upon further consultation, so you won't have to stress over paying a bulk in one go.
But while Austral Migration Consultancy is impressive in this innovative process, we think it's only appropriate for a firm whose headquarters is located in Australia.
As it has 3 agency offices in both Malaysia and Singapore, this means you'll still have to work with local staff to get through to its designated Singapore immigrant lawyer.
This might be a hassle to some; nevertheless, once you've gone through the first couple steps, clients have vouched for a smooth-sailing, prompt service.
That said, it still remains as one of the most competent and trusted immigration law firms in the industry — one we can't easily overlook as well.
No matter your reason for relocating to Australia, we trust Austral Migration Consultation to take you there.
2. The Immigration People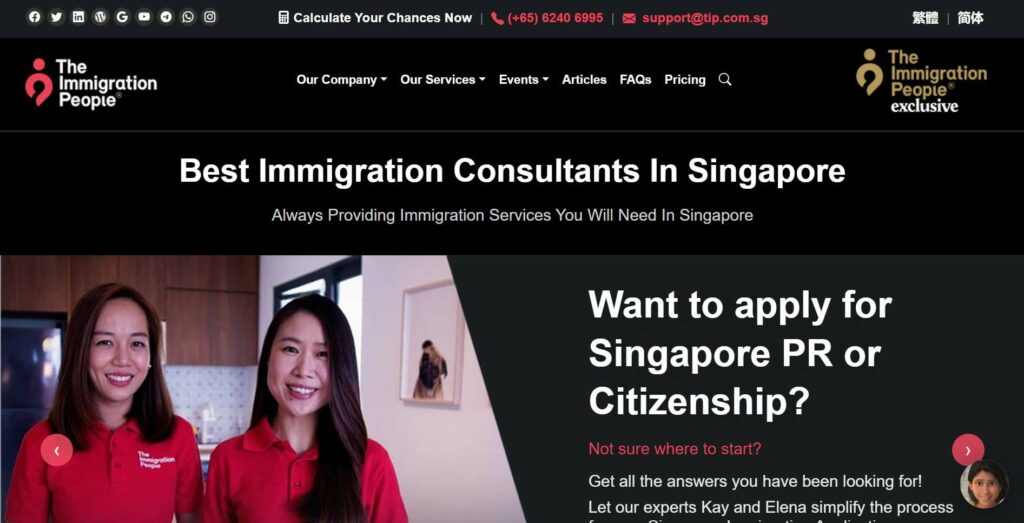 Services: Singapore Citizenship, Singapore Permanent Residence, Long Term Visa Pass, Work Pass Applications, Global Investor Program, Business Relocation Service
Website: https://www.tip.com.sg/
Address: 10 Anson Road, #32-01 International Plaza, Singapore 079903
Contact Details: +65 6240 6995
Office Hours: Monday to Friday, 9:00 AM – 6:30 PM; Saturday, 9:00 AM – 01:30 PM
| | |
| --- | --- |
| Google Reviews | 5/5 |
| Facebook Reviews | 5/5 |
| Total Reviews | 4/5 |
| Score Consistency | 4.7/5 |
| | |
| --- | --- |
| Services | 5/5 |
| Experience & Professionalism | 4.5/5 |
| Success Rate | 4.5/5 |
| Client Satisfaction | 5/5 |
Wide connection to immigration agencies and organisations to streamline processes
Thorough document control and assessment
Provides transparent fixed floor price 
Available 6 days a week
Unstable website form
Closed on Sundays
From experience and training alone, The Immigration People (TIP) can be considered a powerhouse.
Coached by former Immigration & Checkpoints Authority (ICA) and Ministry officers, it has a grasp on immigration policies like no other.
When it comes to illustrating professionalism, The Immigration People greatly impressed us by how it seems to draw the benchmark for it.
Its team boasts immigration consultants with years of experience in other non-immigration fields that also require working with intercultural communities.
The Immigration People utilises this by providing highly personalised approaches based on its client's experiences.
On top of this is its government agency-backed training history, through which it has established a wide network of agencies and organisations that can aid you in making your applications more time-efficient.
It's also the only immigration firm that provides an estimated floor price for its clients even without consultation, so you can immediately consider your budget should you engage with the firm.
Another point we'd like to highlight about The Immigration People is how meticulous and strict it is in centralising its document processing.
Because permanent residence and citizenship is a process that involves a mountain of documents, the firm addresses this by creating a dedicated document controlling team.
Its document control team not only consolidates your requirements, they also analyse and assess — with emphasis on confidentiality and privacy — your profile to optimise success rates.
If you feel inclined to engage in its services, you'd be glad to know that it offers an hour-long free consultation.
You can book an appointment via its website, although we'd caution that the form sometimes crashes, so your best option would be to give it a call.
Or you can drop by its office; it's open 6 days a week, though only for half-day hours during Saturdays.
3. Singapore Top Immigration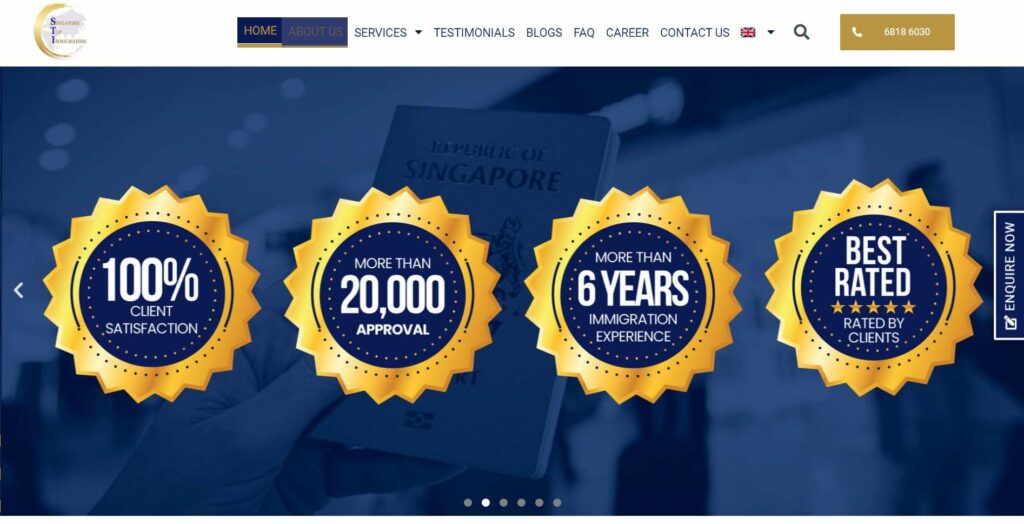 Services: Singapore Permanent Residence, Singapore Citizenship
Website: https://singaporetopimmigration.sg/
Address: Marina Bay Financial Centre, 10 Marina Blvd, Tower 2 Level 39 Singapore 018983
Contact Details: +65 6818 6030; +65 8533 3336 (WhatsApp)
Office Hours: Monday to Friday, 9:00 AM to 6:00 PM
| | |
| --- | --- |
| Google Reviews | 4.9/5 |
| Facebook Reviews | 5/5 |
| Total Reviews | 5/5 |
| Score Consistency | 5/5 |
| | |
| --- | --- |
| Services | 4/5 |
| Experience & Professionalism | 4/5 |
| Success Rate | 4/5 |
| Client Satisfaction | 5/5 |
Culturally and individually customised service
Multilingual service
Client satisfaction-centred service
Younger and newer compared to most firms
Closed on Sundays
Singapore Top Immigration is younger than most firms on our list, but it's already made a brand for itself as one of the most trustworthy immigration firms.
Despite being around for only 6 years, Singapore Top Immigration has already granted more than 20,000 approvals for its clients.
But while it's steadily marking a path to excellence, its key approach remains simple: a culturally-sensitive, customised service.
This is one thing we admire about its services — and what we think is a young firm's sharpest edge against its competitors.
While it's building up its repertoire, it can focus on catering to client satisfaction and providing detail-oriented services.
Which is exactly what Singapore Top Immigration prides itself to be: a firm that clients can trust and can deliver exemplary service.
But if we had to pin its strongest suit, it would be its multilingual services.
Singapore Top Immigration can communicate with clients in eight different languages: English, Mandarin Chinese, Japanese, Korean, Thai, Malay, Tamil, and Burmese.
Hence while its focus is in streamlining grants for Singaporean citizenships, it can accommodate a wider clientele compared to most leading immigration firms.
It also keeps up with its competitors in other features, such as free eligibility consultation via its website, as well as a comprehensive guideline of requirements for permanent residency and citizenship.
All in all, we recommend Singapore Top Immigration to other nationalities whose primary concern is the difference in customs.
You can rest assured that its immigration lawyers can design an approach that's right for you!
If you're eyeing to drop by its office for an appointment, we have to caution you that it's closed on Sundays.
4. Immigration@SG LLP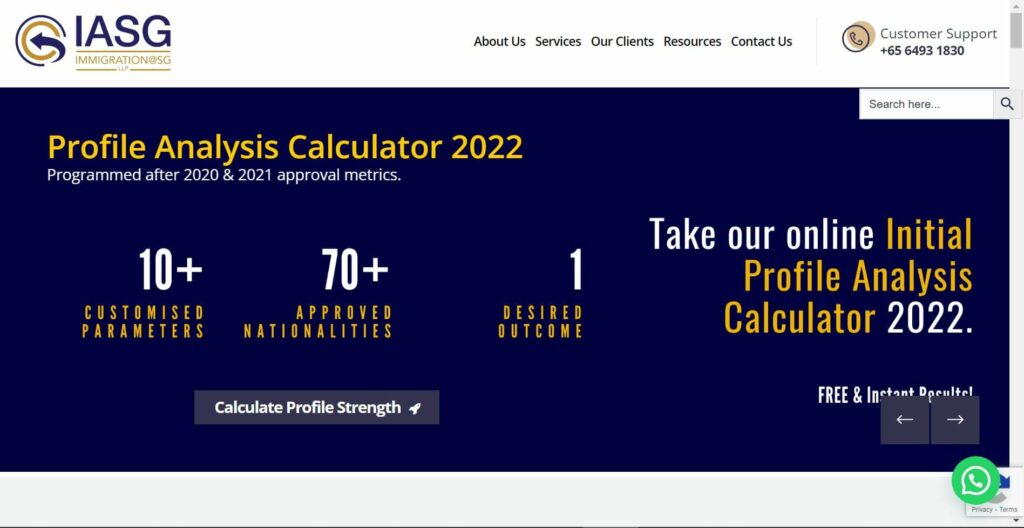 Services: Singapore Permanent Residence, Singapore Citizenship, Business Relocation, Work Pass Application, Singapore Tech Pass
Website: https://iasg.com.sg/
Address: 9 Temasek Boulevard #44-01 Suntec Tower 2, Singapore 038989
Contact Details: +65 6493 1830
Office Hours: Monday to Friday, 8:30 AM – 7:00 PM
| | |
| --- | --- |
| Google Reviews | 4.6/5 |
| Facebook Reviews | 4.3/5 |
| Total Reviews | 5/5 |
| Score Consistency | 4.6/5 |
| | |
| --- | --- |
| Services | 4.5/5 |
| Experience & Professionalism | 5/5 |
| Success Rate | 5/5 |
| Client Satisfaction | 4.5/5 |
Multi-awarded law firm with over 50 years of combined experience
Has experience processing for and connections to big corporate names
Over 500,000 permanent resident applications granted thru it
Difficult to contact/communicate with
Office closed over Sundays
Limited appointment slots on Saturdays
If you're looking for an agency to streamline your Singaporean citizenship, you don't need to look any further than Immigration@SG LLP (IASG).
A multi-awarded immigration law firm with over half a million permanent resident applications granted — what more can you ask for?
That's also why we put IASG on our list.
With its team having 50 years of combined experience in immigration matters in Singapore, IASG has developed a method that can adapt to its client's individual needs, no matter how complex your case may be.
In fact, it has successfully aided over 50 nationalities in its career, including but not limited to India, China, Philippines, the United States, Malaysia, Australia, Japan, and Korea.
To add to its credentials, it has assisted corporate giants Google and IBM as well in business immigration and relocation matters.
With several of its cases achieving outstanding success, we certainly recommend IASG as a first choice to individuals or businesses looking to relocate or expand to Singapore.
But while it boasts a stellar performance that makes its services in demand, this also makes it a bit difficult to get through other clients.
It's also closed during Sundays, and Saturdays are only open to clients who have booked an appointment.
Nonetheless, it offers a free initial consultation accessible via website. You only need to fill in a form and IASG will contact you in the soonest time possible to arrange an appointment.
Overall, if you're looking to be advised on Singaporean immigration laws — whether business-related or individually motivated — we direct you towards IASG to see for yourself why it's the people's choice.
5. MK Migration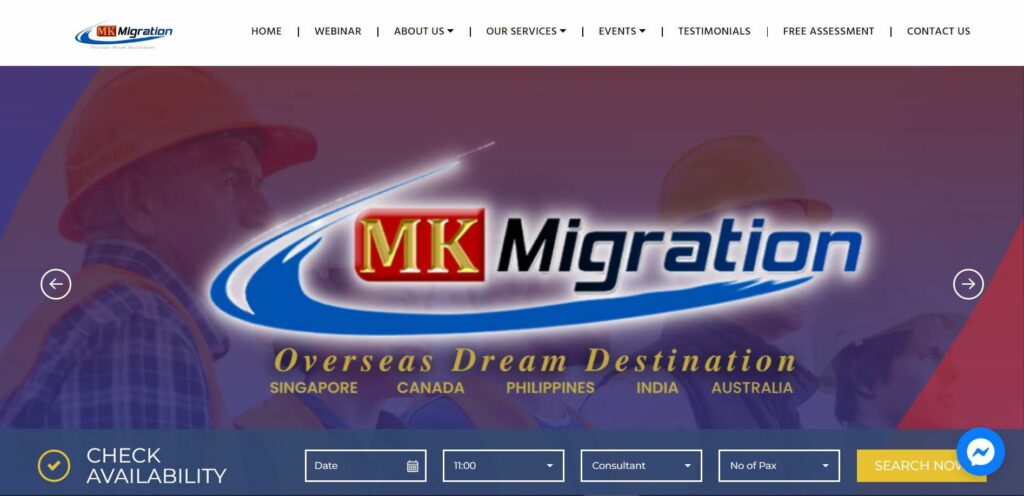 Services: Migration to Australia, Canada, New Zealand, USA, Singapore; Skilled Visa, Student Visa, Training Services
Website: https://www.mkmigration.com/
Address: 1 North Bridge Rd, #03-01 High Street Centre, Singapore 179094
Contact Details: +65 9029 9049
Office Hours: Sunday to Monday, 11:00 AM – 7:00 PM
| | |
| --- | --- |
| Google Reviews | 4.2/5 |
| Data Gemba Reviews | 4.3/5 |
| Asia Firm Reviews | 4.5/5 |
| Total Reviews | 4/5 |
| Score Consistency | 4.25/5 |
| | |
| --- | --- |
| Services | 5/5 |
| Experience & Professionalism | 5/5 |
| Success Rate | 4/5 |
| Client Satisfaction | 4.3/5 |
Provides grant assistance for 5 countries
Offers webinars and skills & English courses
Offers free assessment
Global connections that can streamline immigration processes
Free assessment accessible via membership on website only
Unconventional office hours
Difficult to contact staff
With branches in 4 other countries, MK Migration is equipped with 18 years of training services for immigration policies and 8 years of experience in immigration consultation.
This means that aside from granting you the visas you need, it can also provide necessary skills and English proficiency training to streamline your applications.
It holds regular webinars to discuss immigration policies in-depth.
Whether it's for employment or for studying, MK Migration can give you top-notch advice and guidelines. It can also provide employment solutions for people aiming for skilled migration grants.
Have we mentioned its countries of expertise yet? Australia, Canada, New Zealand, the United States, and of course, Singapore.
Wherever among these five you're looking to migrate to, MK Migration's global connections can make the preparations simpler for you!
In fact, the firm displays a comprehensive guide of eligibility requirements you'll need on its official website. Not to mention, it also offers free consultation and assessments.
Although the latter perk needs an official registration, which means you'll have to make an account on its website in order to access its online assessment function.
This helps it consolidate your records easier.
But if you want to take a chance to visit its office, do note that it's open on Sundays, but closed on Fridays and Saturdays.
It also has unconventional office hours, which discourages clients from dropping by early in the day but at the same time extends its closing time longer than other firms.
However, its biggest downside for us is its inability to juggle its clients well. According to previous clients, MK Migration's staff can be difficult to contact at times.
So while we do recommend MK Migration for its immigration lawyers' overall proficiency and high success rates, we believe requesting for a certain staff member would make appointments less of a hassle for you.
So if you're looking to book MK Migration for your immigration concerns, be sure to check out other clients' recommendations for staff as well.
FAQs about Immigration Lawyers